The Shortest Straw
Search & Rescue in the High Sierra
Dean Rosnau
The Shortest Straw begins with playful and insightful Tom Sawyer-style early chapters, which could have been taken straight from the pages of Boy's Life. The stage for adventure is set in Dean Rosnau's rambunctious youth, and the reader is soon launched headlong into a bracing string of first-hand narratives, detailing the risk and challenge of high-mountain search and rescue operations, known as SAR.
In this exhilarating report from the heights of the eastern Sierra Nevada, Dean Rosnau exposes a pathway to life-saving decision, gripping rescue action and volatile emotional challenge, all emerging as part of the daily routine of high-mountain search and rescue: a routine like no other.
Rosnau's faith is as natural as the air he breathes, the water he drinks, and the ground upon which he walks. And that ground is some of the most rugged terrain in the world. The Shortest Straw is a must read, eye-opening account for all who dream of high mountain ranges, and for all who have been there."
-- Roy McClenahan
Expert Rock Climber &
Mountain Guide
Photo's from The Shortest Straw
Search and Rescue in the High Sierra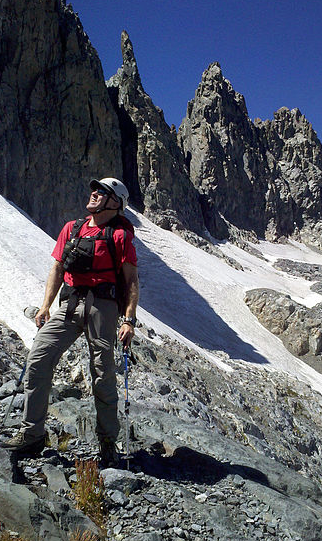 From the Author:
When I was in the 8th grade, one of my teachers in a Creative Writing class saw that I enjoyed writing and suggested I consider keeping a journal. As much as I liked the idea, I could not come up with anything to write about on a consistent basis.
Not too much later, my newfound passion for climbing rocks gave me my subject matter. Before long, I was filling multiple spiral notebooks with every little detail of my climbing lifestyle.Years later, as I began working as a Search and Rescue volunteer for the Sheriff's office, writing incident reports came as second nature to me. Not only would I keep a copy of my reports, I would write up a more personal account of the incident in my own journal.
Over the years, I've had opportunity to share many of these stories during public speaking engagements, family gatherings, or around the campfire with friends. Every now and then someone suggested, "Ya know, you ought to think about putting some of these stories into book form."
For years, the wheels turned in regards to exactly what a book of this nature would look like. I wrote exhaustive outlines based on 43 years of climbing journals, and 33 years of incident reports. But the arc of the story eluded me, and the sheer volume of the material was overwhelming.
I finally worked it out in my head, but felt unsure of how to wrap up a good ending in a final chapter. Then, on July 17, 2013, Matthew Greene went missing in my eastern high Sierra backyard, and I threw myself into this mystery. As that case evolved, I knew I had found a powerful and profound way to finish off the story I wanted to tell. When the Greene family gave me permission to use Matthew's story in the book, I knew it was time to pour it out.
My goal with The Shortest Straw has been not only to share a few stories from my life, but to bring to light the incredible things Search and Rescue teams do around this great nation each and every day. Hopefully, you won't ever need their assistance, but if you do, there will be some extraordinary people on their way.
Though at times it has not been easy to relive some of these life events as I wrote the book, it has been a joy to see how the arc of my own life led me to play a small role in the lives of others.
As I continue to search for Matthew Greene, I hope you will keep an eye on my blog here, and help keep his story alive.
Live your dreams, and finish strong!
Dean Rosnau